I-GLASS LAMINATED PRICES £GBP per linear metre Price (simply take the width you require and x by the height)
Please note delivery costs plus remote controls, power transformers etc are all to be added also
200mm - £245 +VAT
300mm - £ 310 +VAT
400mm - £ 385 +VAT
500mm - £ 435 +VAT
600mm - £ 510 +VAT
700mm - £ 560 +VAT
1,000mm - £ 610 +VAT
1,200mm - £745 +VAT
1,500mm - £935 +VAT
The latest generation of I-GLASS™ LAMINATED offers greater safety and security in both the workplace and the home.

Our unique manufacturing process means that our laminated smart glass panels provide superior performance and clarity, compared to other switchable glass products in the market.
The seamless nature of laminate glass means that panels can be positioned side by side (glass to glass) without the need for any vertical frames.

This makes switchable laminate glass the ideal choice for glass walls and partitions, creating a very minimal and contemporary look.
The switchable film is protected, being bonded between two sheets of glass, which makes laminate glass a safer product and more durable in certain applications - high traffic areas, bathrooms, hospitals, clean rooms etc.
This durable solid state technology replaces the need for old fashioned blinds or curtains offering greater control and comfort within any room.

A simple ON - OFF mode switches the glass from being clear (transparent) to frosted (opaque).
RECOMMENDED APPLICATIONS
PRIVACY OR SECURITY GLASS
GLASS WALLS /DIVIDERS
VISION PANELS & DOORS
OFFICE PARTITIONS / MEETING ROOMS
HIGH TRAFFIC AREAS & CLEAN ROOMS
BATHROOMS & CHANGING ROOMS
INFORMATION WINDOWS & COUNTERS
MINIMUM & MAXIMUM SIZES PER PANE
MINIUM 150mm x 150mm
MAXIMUM 1500mm x 5000mm
WHAT IS REQUIRED & PROVIDED
POWER
WE PROVIDE YOU WITH A 110V/240V TRANSFORMER WITH POWER SURGE PROTECTION WHICH CONNECTS TO THE GLASS BY WIRES ATTACHED TO YOUR 13 AMP FUSED SPUR
CONTROLS
WE PROVIDE YOU WITH AN I-REMOTE WITH WIRELESS RECEIVER TO CONTROL THE GLASS FROM UP TO 10 METRES AWAY. YOU CAN ALSO HAVE A WIRELESS OR HARDWIRED SWITCH IF YOU CHOOSE
LEAD TIMES
INCREDIBLE FAST 4 WEEK LEAD TIMES FROM ORDER AS STANDARD OR PREMIUM 2 WEEK FAST TRACK OPTION - YOU WON'T FIND IT FASTER
POWER - 110VAC

FREQUENCY 50/60 HZ

CURRENT - 0.1 AMPERES PER M2

POWER 7 WATTS PER M2

SWITCHING - LESS THAN 1 SECOND
THICKNESS - VARIOUS

LIGHT TRANSMITTANCE - ON 75% -
OFF 67%

HAZE COEFFICIENT - ON (3%) OFF
(87%)
I-GLASS™ Test Procedures
Tested over 3 million switches
High temperatures - >70 degrees C (over 14 days)
High temperature / humidity - >50 degrees C / 95% RH (over 14 days)
Cold temperatures - minus 20 degrees C (over 14 days)
UV filtering - 99% (within 1 year)
Haze Coefficient - On (3%) Off (87%)
Download the complete smart technology range prices brochure
Download the complete smart technology range prices brochure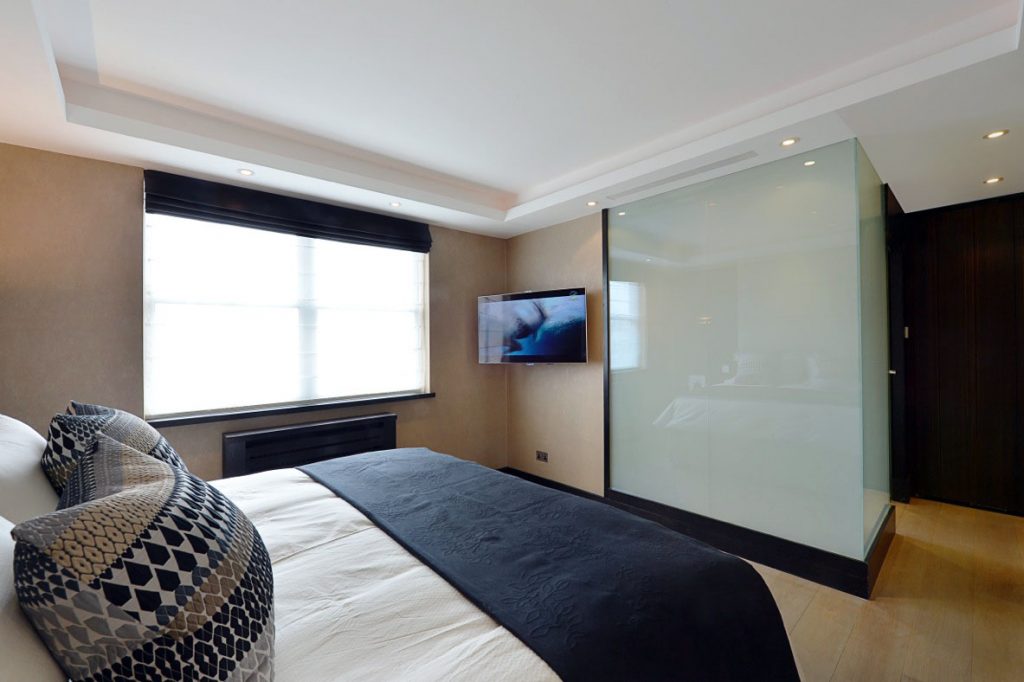 Download our I-Glass Laminated Spec Sheet
See all our downloads in the main menu